We have just a decade left to halt and reverse biodiversity loss
This August, the two-year delayed UN biodiversity conference – CDB-COP15 – takes place in Kunming, China.
With four pandemic-related postponements and time for action running out, it is now more crucial than ever that the Conference leads to strong commitments from governments to address the nature loss crisis.
But what does strong commitment look like?
The main objective of COP15 is to adopt a global biodiversity framework.
This framework, which in a best-case scenario will be adopted by all 196 governments attending the Conference, will facilitate the implementation of:
biodiversity goals and targets;
national biodiversity strategies;
global monitoring and review of progress.
If implemented, the global biodiversity framework would aim to create a world with no net biodiversity loss by 2030 and net improvements to biodiversity by 2050.
The role of finance in reversing nature loss
The COP15 is mostly focused on country-level action.
But there is also a growing call for the private sector to also step up on biodiversity, acknowledging the need for cross-sector mobilisation to tackle this issue.
One key stakeholder here is the finance sector.
Ahead of COP15's online events last October, 78 financial institutions representing over US$10 trillion in assets published a statement declaring their concern over critical biodiversity loss.
These institutions - including asset managers, major banks, pension funds, and insurance providers – shone a light on the close relationship between the economy and the vital services that nature provides (also known as ecosystem services).
They called for the proposed global biodiversity framework to "include an explicit expectation for financial institutions and businesses to align financial flows to global biodiversity goals, supported by appropriate regulatory measures and financial incentives."
A growing sense of urgency
There are lingering concerns this year's biodiversity conference could once again be cancelled.
But whatever happens, there is no denying the growing awareness among financial institutions of the biodiversity crisis. And a sense of urgency to address it is clear.
In light of this, ShareAction organised a high-level biodiversity roundtable in Westminster in partnership with UKSIF in May.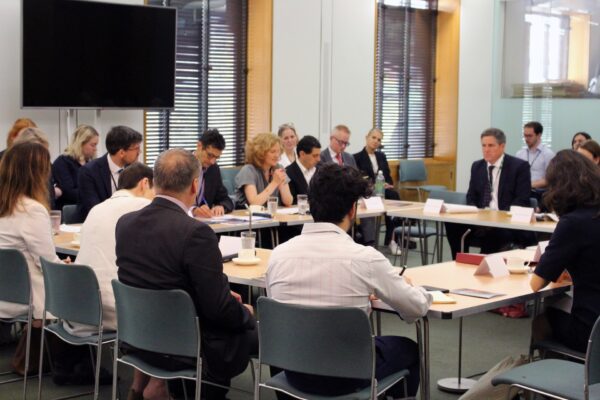 The event – 'Tackling biodiversity loss: driving up the ambition of UK policymakers and action by the finance sector ahead of CBD-COP15' – saw civil society organisations, finance sector representatives, cross-party MPs, Lords and a government minister come together to debate key challenges and solutions to the nature loss crisis.
What would success at COP15 look like?
The world is facing a twin environmental crisis: climate change and biodiversity loss.
And while each of these issues represents their own challenges. With climate change at the forefront of many governments' and companies' minds, biodiversity loss can often come as an afterthought.
The event participants hoped COP15 would help change this narrative, and provide a commitment to tackle biodiversity loss in tandem with climate action.
Sonya Likhtman of Federated Hermes' engagement and stewardship team for example warned: "Climate change is taking quite a long time for people to get their heads around – we don't have the luxury of that time for biodiversity."
There is also a lot that governments can learn from frameworks already developed for climate change.
James Alexander, CEO of UKSIF, Alison Midgely, Sustainable Finance Manager at WWF and Catherine Howarth, CEO of ShareAction all agreed, for example, that the UK Government's progress on developing net zero transition plans could be extended to cover nature.
"A lack of data shouldn't be an excuse not to act!" urged Catherine Howarth. High quality, comparative data is vital, but gaps aren't a reason not to progress.
Currently, the Transition Plan Taskforce is consulting on best practice for sectoral decarbonisation strategies, but could also look to develop plans for nature positive pathways as part of its approach.
Another area where much can be learnt from existing climate initiatives is when it comes to climate reporting.
Following the impact of the Taskforce for Climate-related Financial Disclosures (TCFD) – a framework set up to support companies and other organisation report on their climate risks and opportunities – a similar framework is under development for nature.
The event participants hope that COP15 will see the widespread adoption of the newly created Taskforce for Nature-Related Financial Disclosures (TNFD) reporting framework.
Speaking at the event Emily McKenzie, Technical Director of TNFD stressed how vital government support would be in instating the TNFD worldwide.
Meanwhile, Green MP Caroline Lucas urged the government to avoid unnecessary delays by making TFND reporting mandatory - as they have done with TCFD reporting.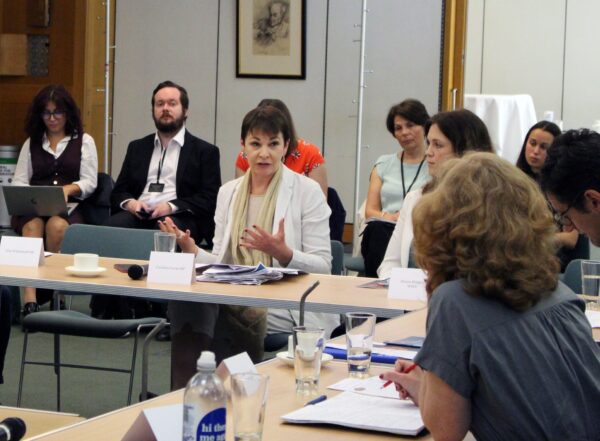 Parliamentary Under Secretary of State at DEFRA, Lord Benyon, hinted that the 'direction of travel' pointed to the TNFD framework becoming mandatory across the economy in the coming years.
He commented: "People said mandating TCFD couldn't be done, but it happened, which hopefully provides a clue for the course of TNFD.".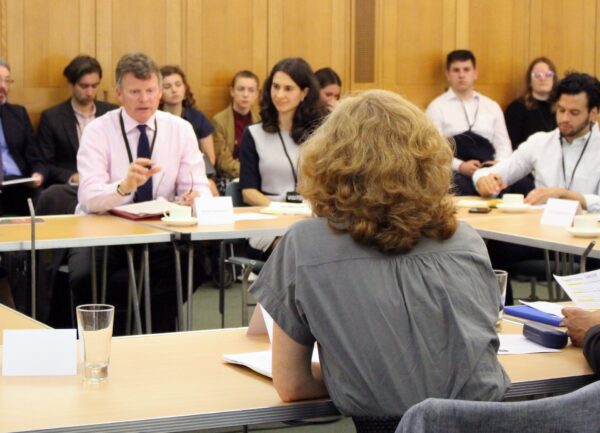 But while many lessons can be taken from climate change, tackling biodiversity loss will also require a unique approach, and the TNFD will be publishing their approach to nature metrics in June.
The private sector should not wait on government action
While there is much hope for COP15, and the role it will play in continuing to galvanise momentum around the critical issue of nature loss, the urgency of the challenge means all actors must step up now.
There was clear consensus from all our roundtable participants that discussions and collaboration must not loose momentum after the UN conference later this year.
The private sector will have a key role to play – and investors need to step up their engagement on this in parallel with the vital action taking place at the government level.
Effective stewardship is a key tool in any investors' arsenal.
It has a key role in driving change.
As stated by ShareAction CEO Catherine Howarth: "We have got to be bolder! Large asset managers currently have investments threatening the future of their savers, who they're meant to be looking after. The investor community needs to be more challenging."
In our most recent assessment of major asset managers voting practices – our 2021 Voting Matters report' – we found that the world's largest six largest asset managers are voting more conservatively than their proxy advisors recommend.
In the face of evolving environmental crises, and with some £44 trillion of global GDP dependant on our natural world, this is not good enough.
It is time that biodiversity loss is put firmly on the agenda.
COP15 will ensure the issue is front and centre of governments minds, but for the financial sector there is no time to lose.
They must put this issue firmly on the agenda at AGMs and use the full range of stewardship tools available to them.
Collectively we can reverse the trend on nature loss, and create a nature positive future.